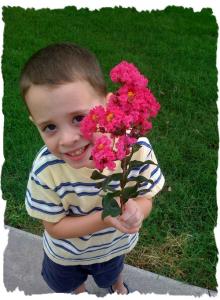 Our first real baby joined our family on December 8th, 2005. Tyler Graham was born via C-section at 8:05 p.m., weighing in at 5 lbs, 10 oz and 18 1/4 inches long. We went through three years of ups and downs to get him here, but he really was worth it all. He's our little miracle, and we are so blessed to have him in our life.

The past four years with Tyler have been a whirlwind of firsts, and while life with a stubborn and very opinionated little boy can be frustrating at times, all the hugs and giggles definitely make up for all the messes and tantrums.

Besides, how could anyone stay mad at this face?