Abby's "NYC in a Nutshell"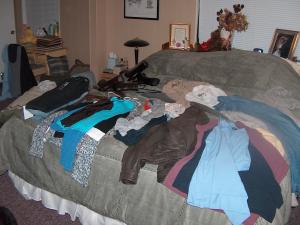 Okay, for those of you who want ALL the details, here's our NYC trip in a (very large) nutshell...
We left Oklahoma at noon on Thursday, drove and flew all day and arrived in NYC a couple of hours later than expected (about midnight) on Thursday night.  Our flight had been delayed because of fog, and we had the SCARIEST landing either of us had ever had on an airplane when we landed in NYC.  It was so rough and then the plane started sort of fish-tailing on the runway -- I just knew we were going to start spinning out of control (and I think I about broke Jake's hand squeezing it as hard as I was), but luckily, the pilot got us under control and we were fine.  It was VERY scary for a few terrifying seconds, though!

** Pictured above is what our bed looked like while we were packing for our trip.  It's amazing how quickly you can pack when you're given only a few hours notice for a trip across the country! **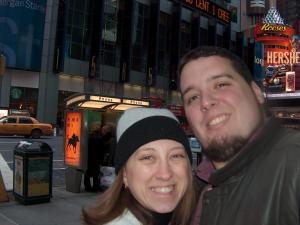 So, after we recovered and found our luggage, we headed to our hotel, where we arrived about 1:00 a.m.  It was a total hole-in-the-wall place, which we knew it would be because it was pretty cheap (it was included in our travel package with our airfare).  The room was tiny and wasn't very nice, but it looked clean enough, and there were no bloodstains on the walls or anything, so we thought it would be okay.  We went walking around Times Square a little bit, had a slice of pizza, came back to the hotel and went to bed about 3:00 a.m.  At about 5:00 a.m., Jake sat straight up in bed and said, "There's something in here!"  I didn't hear anything (I was so exhausted, I probably never would have heard anything), but once we both sat up and listened, there was definitely something scurrying around somewhere in the room.  We turned the lights on and listened some more, trying to figure out where it was coming from.  Finally, Jake heard the noise coming from his laptop bag and when he hit the bag, a mouse flew out of it and raced across the room.  That definitely woke us both up!  Now, I don't really mind mice (meaning that I'm not terrified of them or anything -- I used to have them as pets), but neither of us really wanted to be sleeping with them loose in our room, especially with our laptop, clothes and digital camera around for them to snack on.  So, we ended up changing hotels at 6:00 that morning -- in the freezing cold and rain, carrying all our luggage and going on just 2 hours of sleep.  Lots of fun!  We ended up in a MUCH nicer hotel, though -- with no free pets included, so all's well that ends well.  And now we have a funny "Mouse Motel" story to tell!  By the way, if anyone ever goes to NYC, do NOT stay in the New York Inn!  Just some friendly advice...

** Pictured above is us in Times Square.  You'd think we could find someone there to take a picture of us, but nope -- we'd rather just hold the camera out at arm's length like we always do! **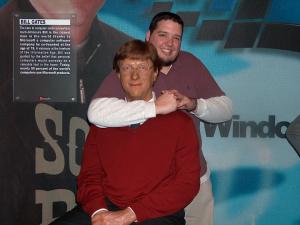 So, after a couple of hours of sleep at our new hotel, we got up, got ready, and hit the streets of New York City.  We were headed to buy tickets to an off-Broadway show (we knew of a place where we could get half-price tickets), and we also wanted to go see the World Trade Center site.  So, we started walking...and walking...and walking.  It was still freezing cold and raining, and it was miserable.  Our jeans were both soaked from the knees down, and I had stepped in several deep (freezing) puddles along the way, so my shoes and socks were also soaked.  I was not a happy camper.  We finally made it to the WTC site, but we really couldn't see too much of it.  We were behind a fenced-in area, and we didn't know how much closer we could really get.  Plus, it was still raining and freezing, so we weren't very eager to leave the covered area we had found.  So, we took a few pictures and then ducked into a little shop/restaurant area in the financial district to thaw out a bit.  After that, we grabbed a taxi, bought our show tickets at the TKTS booth, and then took another taxi back to our hotel, where we thawed out some more and got into some nice dry clothes.  We even even ended up taking a little nap, too.  When we got back out, we went to Madame Tussaud's wax museum, where they have tons of amazing wax figures of celebrities and other famous people.  The wax people looked SO incredibly real, it was almost spooky -- it really felt like some of them were going to start moving and talking to us any second!  We took lots of pictures of them, and it was a very fun experience.  Then, we headed to the off-Broadway show we had tickets for called "I Love You, You're Perfect, Now Change."  It was HILARIOUS -- we'd definitely recommend it to anyone!  After that, we headed back to our hotel and crashed for the night.  It was a very long (but very fun) first day in the big city!

** Pictured above is Jake with Bill Gates in a headlock at the wax museum. **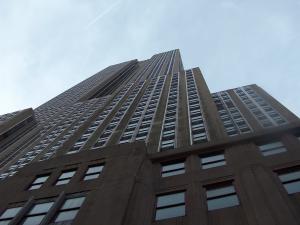 We got up the next morning (Saturday) with a little better idea of what we wanted to do and an actual schedule for the day.  We headed to the Empire State Building first, where we waiting in a loooooong line for over an hour -- again, in the freezing cold, but at least no rain this time!  We finally got inside, and it took another 30 minutes or so to make our way through the ticket line and to get to the top of the building.  When we finally got there, it was SO cold and windy up there (it's not closed in by glass like we had thought, but completely open to the air), so we only spent about 15 minutes out there -- just long enough to take pictures from every angle and to get someone to take a picture of us.  It was definitely fun to be able to see amazing views of New York City (and even some of New Jersey and some other states, too, I think), but I'd definitely recommend going sometime when it's not so darn cold out!  After that, we headed off to something Jake had read about on the internet -- the Manhattan TV tour.  It was supposed to be a tour of lots of locations from TV shows and movies (like the apartment building from Friends, the "Soup Nazi" place from Seinfeld, the book store in You've Got Mail, etc.).  So, we went to the Times Square Visitor's Center, where the tour was supposed to leave from, but no one there had ever heard of it.  We waited for a few minutes outside (as suggested by one of the information center workers, just to see if the tour bus would magically show up), but it never came, so we went back to our hotel.  Jake looked up the information again, and it turned out he had found some old information, and the tour had changed names, locations and times, so we missed out on that completely.  We were disappointed at first, but then we realized that meant we had a couple of hours free, so we took a nap.

** Pictured above is a view from the ground looking straight up at the Empire State Building.  Makes you a little dizzy, doesn't it? **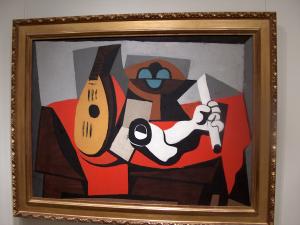 When we got up, we headed out again -- this time, to the Metropolitan Museum of Art.  We had planned on going on a guilded tour of the "Highlights of the Museum" (we figured that would be more structured than us just wandering around not knowing what we were looking at), but we ended up missing the tour by a few minutes and having to wander around, unguided, anyway.  We spent about 2 hours looking at all kinds of art and quickly realized that you could seriously spend YEARS in that place!  There's SO much to look at there, but we tried to hit the highlights and took lots of pictures (which were allowed, but with no flash, so most of our pictures turned out sort of blurry).  After the Met, we grabbed some dinner and headed off to a stand-up comedy club we had heard about on Friday (from a guy handing out tickets on the street).  We'd both always wanted to go to a comedy club, so we figured what better place to start than one in New York City!  So, we crowded into a tiny room in the club crammed with people and listened to 6 stand-up comics.  Most were pretty funny, all were pretty rough (language-wise), but it was fun just being there.  We even got picked on by the comedy show's host, which was VERY embarrassing (for me), but I guess it's all part of the experience...

** Pictured above is a Picasso titled "Mandolin, Fruit Bowl, and Plaster Arm."  Modern art is some very, very random stuff... **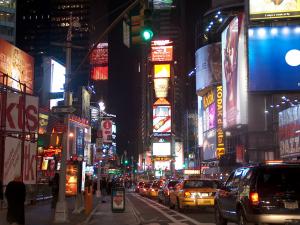 After the comedy club and one last slice of New York pizza (YUM!), we crashed for the night.  Sunday morning, we got up early to pack up and leave.  We left about 8:00 a.m. and headed to the airport.  Our flight left NYC around 11:00 a.m., and after a quick stop in Indianapolis, we landed in Dallas at around 4:00 p.m.  We claimed our luggage, found our car, and a 3-hour drive later, we were home!  Overall, our trip to the Big Apple was an awesome experience, and we're so glad we had the chance to do something like this -- and that we took the chance when we had it.  We know this will be a trip we'll remember for the rest of our lives!  Now, if any of you ever decides to take a trip to New York City, you know who to call for travel advice -- at the very least we can tell you what hotel NOT to stay in!
** Pictured above is a view of Times Square at night -- the night before we left NYC. **


<< Back to Jake's Blog